Million dollar consulting
Apologies in advance, this article is not a step-by-step guide on how to build a consulting company to a cool 1 million - it is in fact a book recommendation.
The book is aptly titled Million Dollar Consulting: The Professional's Guide to Growing a Practice and is written by Alan Weiss. This is not an affiliate post, I'm writing about this book because I dig it, and I hope some of you dig it too.
"Million Dollar Consulting teaches you how to build a thriving consultancy business, by focusing on relationships, delivering strategic value and thinking long-term all the way through." ― Four Minute Books
One of the reasons I decided to start Dev to Agency was because when I was starting out in 2012 I struggled to find good actionable information. Startups were the hot thing (and still are!), but finding content I felt would help me in my quest for starting a custom software agency was hard work. I was recommended this book many years ago on Hacker News, and although it's 25 years old, the vast majority of it still rings true today (a large part of the book was rewritten/modernised in 2016).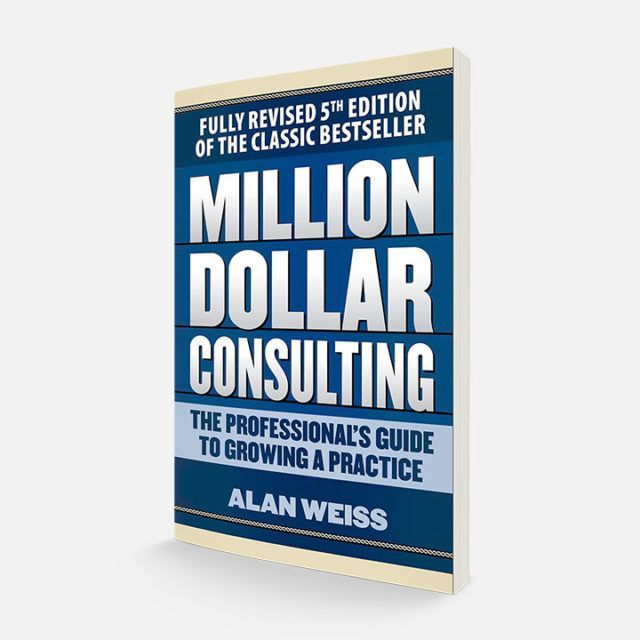 I have mentioned before that I don't like the term 'agency', and I never really referred to my business as an agency. Instead I would say a 'Custom software business' or a 'Custom software consultancy' - but as the majority of the world (and potential clients) use the term agency, I have chosen to use that term.
I say this because when searching for information online I actually often use the term 'consultancy' or 'consultant'. Agencies, consultancies, freelancers - we all provide client services so the lines get blurry. However consultancies are generally perceived as having higher expertise (whether that's true or not) - so advice on how to build a million dollar consulting business is certainly relevant to building a quality software agency.
"When people knock on your door, credibility is assumed and fees are whatever you say they are." ― Alan Weiss, Million Dollar Consulting
Ok enough of that, let's get to the reason I am recommending you read this book. Alan Weiss is a leader in the consulting field (I also recommend reading Alans other books such as The Consulting Bible) - and one of the things he is best at is convincing builders (us), that this is not all about building - but all about the clients. The value you give them, the relationships you build with them, and the trust that you forge together. It can all sound a bit fluffy - but this book gave me a reality check when starting out, because as a technologist it's easy to get carried away about the technology.
Even though a bunch of the book was updated in 2016, don't expect there to be a chapter on 'Building instagram followers'. You can read a billion books on that topic, but strategically building high-value client relationships and sharpening your expertise - this is not a dime-a-dozen type book. This is advice from a weary battle-worn expert who has spent years in the trenches honing his craft. Look past the ageing examples, and think about how these tested learnings can apply to you.
"You grow based on exploiting strengths, not by acclimating to weaknesses." ― Alan Weiss, Million Dollar Consulting
Key takeaways from Million Dollar Consulting 🔑
A consultant adds value to their customers cause.
Get discovered by making yourself visible.
Focus on the big picture and don't let your job get in the way of your career.
Be crystal clear about your strategic goals.
Sometimes you need to fire clients in order to grow.
Consulting is a 'relationship business' so a likeable brand is crucial.
Focus on value and partnership when negotiating with a potential client.
Don't charge for time, but instead for value.
Don't be fooled by immediate success, and always keep your pipeline evenly filled.
Diversification and investment are the best protections against bad times.
Think long term and wise up if you want to hold on to your dream client.
Balance work and life – your real wealth is your free time.
---
If you're interested in checking it out Amazon has the book in all the formats, and Alan also has it directly for sale on his website.
Any book recommendations that have helped you? Lets share the knowledge, simply reply to my tweet:
Enjoying these posts? Subscribe for more